Amenities & Services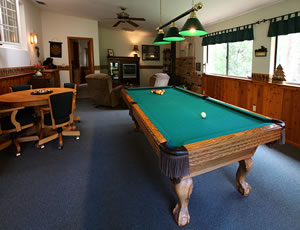 Once you step in to the Highland House, you are family for life. We offer exceptional service, but leave you to enjoy your own experience.
When you arrive in the evening, please arrive early enough to settle in and browse the menu book of the local restaurants. Remember that Highland House is at least a 15 minute drive to any restaurant and most restaurants stop serving dinner after 8:30pm. You may use our phone to make a reservation. If you happen to arrive a little late for dinner, there will always be an open kitchen with snacks laid out each evening. There is room in our fridge for your food if you brought any, just put your name on it. A microwave, stove, sink and dishes are available for your convenience.
Every guest will receive a wonderfully comfortable bed, private bath and large, filling breakfast. Guests are free to roam about inside and out. We are in the woods, so bug repellent is available for your use. Our entertainment room is equipped with several games, puzzles, billiards, cricket and television. We have several beautiful books on Yosemite, Mariposa and the Sierra Nevada Mountains, so don't forget to browse those and learn a little something about the area you are in.
All rooms offer daily linen changes and upkeep if you request.
| | | |
| --- | --- | --- |
| HD TV & Game Room | Free Wifi | We accept credit cards |
| Breakfast at 8am | Coffee/Tea available all day | Snacks available all day |